Benefits Planning & Counseling
and Social Security Assistance
SAIL provides benefits counseling to help Social Security beneficiaries to understand and use work incentives to start or return to work through Certified Work Incentive Counselor (CWIC). Our team works individually with people who are currently working or seeking employment and help them plan, through using work incentives, to build a more secure financial future and a better life. Additionally, our CWIC's work with Employment Networks, Michigan Works One Stop Career Centers, local Michigan Rehabilitation Services (MRS) offices, Bureau of Services to Blind Persons (BSBP) offices, and other community agencies.
We can help you to understand how work affects a variety of benefits:
Medicaid
Medicare Part A, B & D
Supplemental Security Income (SSI)
Supplemental Security Disability Insurance (SSDI)
Food Assistance Housing Subsidies
Workers Compensation
Unemployment Insurance
Veterans Benefits
Short/Long Term Disability
Individual Development Accounts (IDA)
Earned Income Tax Credits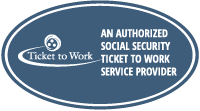 Social Security's Ticket to Work program supports career development for people with disabilities who want to work. Social Security disability beneficiaries age 18 through 64 qualify. The Ticket program is free and voluntary. The Ticket program helps people with disabilities progress toward financial independence. Choosing to work can change your life. The Ticket to Work program and Work Incentives allow you to keep your benefits while you explore employment, receive vocational support and gain work experience. If you are age 18 through 64 and receive Social Security Disability Insurance (SSDI) and/or Supplemental Security Income (SSI) you already qualify! To figure out if Ticket to Work may be right for you, visit www.ssa.gov/work.
Fill out the form on the right to notify SAIL that you're looking for assistance.