Sled Hockey U.P. Sled Cats
Sled (sledge as it's referred to outside the United States) hockey was invented at a Stockholm, Sweden, rehabilitation center in the early 1960s by a group of Swedes who, despite their physical disability, wanted to continue playing hockey.
Sled hockey follows most of the typical ice hockey rules with the exception some of the equipment. Players sit in specially designed sleds that sit on top of two hockey skate blades. There are two sticks for each player instead of one and and the sticks have metal pics on the butt end for players to propel themselves. Goalies wear basically the same equipment but do make modifications to the glove. Metal picks are sewn into the backside to allow the goalie to maneuver.
A few rinks around the country are sled accessible. Sled accessible rinks allow players to remain in their sleds and skate off the ice into the bench area. This requires that the bench area is flush with the ice and there is clear plexiglass replacing the white boards.
Sled hockey provides opportunity for many types of disabilities and there are opportunities available in local areas for recreation/competition all the way to the National Sled Team that plays in the Paralympics. Sled hockey is rapidly growing in the US and players are "hooked" once they touch the ice the first time.
If you would like to make a general donation, please visit our One in Five page.
Connect With The U.P. Sled Cats Team
Sled Hockey U.P. Sled Cats team is on Facebook! To get more information about the Sled Cats, please visit our Facebook page.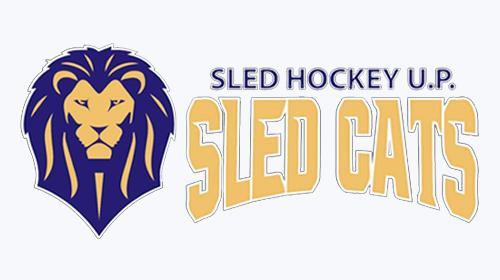 We appreciate every donation that is offered to SAIL. We do not sell or give out donor information to a third party under any circumstances. Thank you for your commitment to enhancing the lives of those living with disabilities in our community.